Article content
Editor's Note: The two protesters mentioned in this article as being arrested were charged with mischief by police on Sunday.
Article content
Two people were reportedly detained after pink paint was thrown over the entrance of the Wellington Street offices of the prime minister and the privy council on Saturday afternoon.
Protesters calling themselves On2Ottawa gathered at the landmark building, previously known in Ottawa as the Langevin Block, to draw attention to a number of their concerns.
Shortly after they arrived, a woman walked up the building's stairs with a bucket of pink paint, which she threw on the stone walls and the building's door.
The woman then pulled off her top before chaining herself to a rail.
Video of the actions were filmed and shown on the group's Twitter accounts.
On2Ottawa organizers said the woman was the same person who marched topless onto the stage at the television broadcast of the Juno Awards last month. Casey Hatherly, who goes by the name Ever, came to national attention when she hopped on the Junos stage while Avril Lavigne was introducing a performance. She was topless and messages written on her upper body included "land back" and "save the Greenbelt," referring to Ontario's decision last year to open a protected area of land for housing."
Article content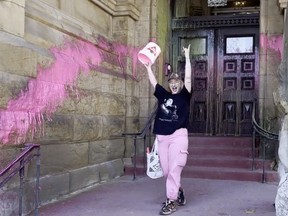 Video from the scene on Saturday showed police and firefighters breaking the chain, and the woman was taken away in handcuffs.
Ottawa Police Services confirmed that one person had been detained, but added that the investigation was continuing and there was no information on charges.
In a message later Saturday, the On2Ottawa group said two of its members had been arrested. That could not immediately be confirmed.
Last month, members of the same group defaced a wooly mammoth statue at the Royal B.C. Museum in Victoria with "washable" pink paint.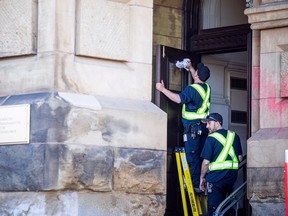 The group said it intended to demand that a "citizens' assembly" be formed to address the desperate need for climate action.
The group also said it intended to to organize a caravan to come to Ottawa in August.
Organizers said they intend to hold rallies at Parliament Hill for the next several days and host information talks.
It was not clear whether the group would be permitted onto Parliament Hill following Saturday's action.
— With files from the Canadian Press
Staff Sgt. Will Hinterberger pleads guilty, resigns from Ottawa police as sexual assault case quietly reaches resolution

Inspector examines McArthur Avenue building following Saturday fire