Article content
With the Assiniboine Forest as a backdrop, Manitoba NDP Leader Wab Kinew announced a number of environmental initiatives if the NDP form government including helping families purchase new and used electric vehicles.
Article content
The NDP also announced it would sign on to the 30×30 Federal conservation commitment and restore funding to nine environmental organizations cut in 2020 by the provincial government, if NDP win the provincial election set for Oct. 3.
Article content
"I can think of no better backdrop on a day when not only are the winds of change blowing but with a haze of fires are looming in the skies above us as a stern reminder of what is at stake," said Kinew. "So we will get this done. These commitments are part of our strategy to fight climate change. We will protect our environment, we will listen to the experts and we will be there to help the average family who is struggling to pay your bills get by during this fight against what is an existential threat: global warming."
Article content
Under their plan, the NDP would offer a $4,000 rebate for new electric vehicles and a $2,500 rebate for used ones. Kinew added that the NDP would look at income testing as a way to ensure "benefits are going to those folks who are most in need and they are more broadly distributed across our society to help the average family in the suburbans, the average working person in rural Manitoba."
The federal government currently offers rebates of up to $5,000, depending on the type of vehicle, and some provinces have already adopted similar rebates. Kinew said the program would cost $7 million annually.
The NDP would also invest in more charging stations, Kinew said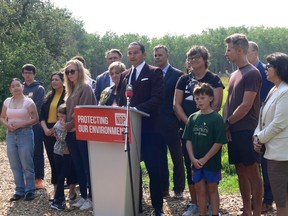 "It is my firm belief that if we make it as affordable for the average family to do the environmentally-friendly thing as it is to do the status quo, then the average family in Manitoba would choose to do the environmentally-friendly thing," said Kinew. "We have to be there to help and we have to be there to level the playing field so that families in our province can make the right choices."
Article content
Kinew says an NDP government would also sign on to a federal commitment to protect 30% of land and ocean by 2030. In May, the Federal government brought provincial environment ministers together to discuss the 30×30 pledge. Provincial Environment Minister Kevin Klein sent a deputy minister in his place and Manitoba has yet to sign on.
He says Manitoba currently has only 11.1% of its land and water in protected status, and accuses the Progressive Conservative government of dragging its feet on the issue.
"Young people are calling on us to do better," said Kinew. "They're frustrated, they're fearful for their future and they're tired of trying to persuade the people in power that stopping global warming is important. But let me tell you today to the young people of Manitoba and everyone across the province who wants action on climate change.; If our team is elected to form your next government you will not have to fight me to take action on climate change. Instead we will fight together against global warming."
Article content
"CPAWS Manitoba has been calling on all political parties running in the provincial election to commit to protecting 30% of Manitoba's lands and water by 2030," said Canadian Parks and Wilderness Society Manitoba Chapter Executive Director Ron Thiessen, who said CPAWS has approached all of the political parties about the 30×30 commitment and is confident that they will all sign on. "We are in a climate crisis, we are in a nation crisis so this action is absolutely necessary and it is achievable."
"Wab Kinew and the NDP want to shut down Manitoba's natural resource economy and kill thousands of good paying jobs for Manitoba families," said provincial Minister of Natural Resources and Northern Development and Riding Mountain MLA Greg Nesbitt in a statement. "This threatens our economic security, hurts First Nations, and drives up the cost of living for all Manitobans.
"Only the PCs will fight for Manitoba workers and grow our economy by balancing responsible resource development and environmental stewardship – without shutting out one-third of the province and leaving the north behind."
Twitter: @SunGlenDawkins